Eric was born in Cocoa Beach, Fl. on January 21, 1994. Even as a small boy he has always had an interest with toy cars and things he could ride on.
A
t the age of 3 his father took him to a Target store where Team Target-Chip Ganassi had a car on display, he was allowed to sit in the car and it was extremely hard to get him out of it! His dad took him to the CART races at Homestead-Miami Speedway where he met racecar drivers such as Jimmy Vasser, Alex Zanardi, Mario and Michael Andretti, and Al unser Jr. Even at this early stage he was mesmerized with the cars, the track and all the excitement that surrounded the event.
That same year he would sit and watch any kind of racing events and took interest in car racing, sprint cars, dirt bike racing or anything with wheels! The following year they went back to spring training where he again saw and started talking to Jimmy Vasser, who allowed him to sit in his actual car. It was also there where Al Unser Jr. and Mario Andretti told him and his father that if he really had an interest, then Karting was the way to get started. At the age of 4 1/2 his father purchased a Top kart with a 50cc Comer engine that would exceed speeds of 40 MPH. He started practicing at the Homestead-Miami Speedway parking lot and advanced to Karting tracks, local club races and became a member of the World Karting Association. His first year of racing he received second place in Florida Championship series that was held in Sarasota, Florida. He also won the local club series in Opa locka, Miami for his division.
Local Miami channel 10 did a segment on the local Karting scene and interviewed him about how racecar drivers got their start racing karts at a young age. He also did a spot for Digital Cafe where they highlighted him taking off in his Kart, he even had a small speaking role. When Eric was at the age of 7, Miami Channel 4 did an exclusive documentary on him showing how a young child was developing into a future racecar driver, where Eric was very photogenic and had the racer's charisma for attracting the media towards him. Eric also had his own display in both Race Rock Supercharged Restaurant in Orland Florida, and a McDonald's in West Palm, Florida, were his Kart, uniform, Helmet and Trophies were/are on display.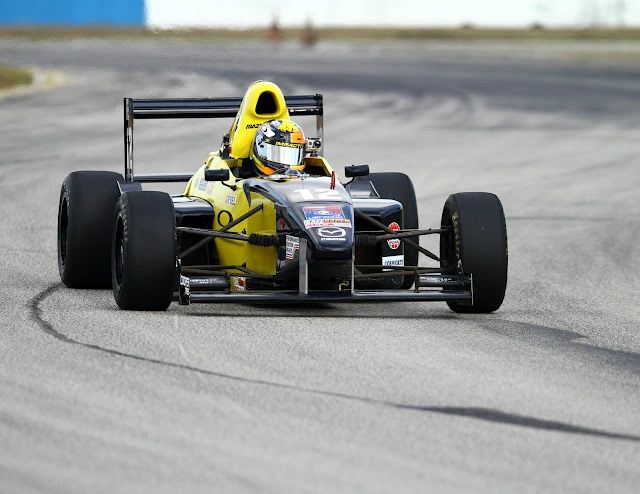 Eric has really blossomed in years time, his driving skills are safe, his lines are smooth and he is very smart on the race track as well as a great sportsman. He has captured numerous trophies/championships. In his career, Eric has been able to capture the interest of Jimmy Vasser of KV Racing, Paul Grosjean, Roger Penske, Chip Ganassi, Mathew Becherer and Al Garcia of Homestead-Miami Speeday, Will Prappas, RJ Valentine, Max Papis, Craig Stanton, Oswaldo Negri, Wagner Rossi and Luis of MG tires, Bill Simpson of Impact Racing, Joanna of Ocean Potion, Robby Mott of Ribtect, Easykart, and many more.

Here is a young man who certainly has his goals set in front of him and is confident that he will one day reach every single one of them! Racing Licenses:


WKA National License since 2000
Stars of Karting License 2002-2005
Easykart Championship Series License- 2006
Rotax Max Challenge License since 2007
FARA Competition License Since 2008
FIA Easykart World Finals License-2009
SCCA License since 2010
FIA International License/ ACCUS Grade C
Statistics: Birth date: January 21, 1994
Residence: Cocoa Beach, Florida
Nickname: Bones
Nationality: U.S.
Education: Graduate from Space Coast Jr/Sr High,
currently attends BCC
Favorite Restaurant : BigFin Seafood Kitchen
Outside The Car: RC Cars, Working out, Reading,
Preparing for racing, Working to be behind the wheel.